Saturday, December 11, 2010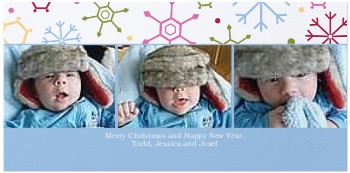 Happy Snowflakes Christmas

Posted by

Jessica Kramasz
at 12:15 PM
13 comments:


This book is part of Thomas Nelson's Christian Encounters series, a group of biographies designed to bring to light the Christian faith of historical figures.
I normally love biographies and have really appreciated the Christian Encounters series. I love getting new insight into the lives of famous people, particularly their faith. However, I was very disappointed in this one. While I would normally read a book like this in a day or two, this one took me months. It is very dry and slow going.
There is very little new insight into the life of Isaac Newton. It is predominantly about his scientific and mathematical discoveries that we all learned in high school. Only a very small portion of the book covers his personal life and there is even less about his faith. The author brings up the topic of Newton's anti-trinitarian views, but does not give it any thorough analysis. It seems like much of the book is just rehashing his correspondence with the Royal Society and other scientists of his day.
Overall, this book was disappointing, though it might be valuable for homeschool purposes.
I must mention that I did receive a complimentary copy of this book for review purposes.
Posted by

Jessica Kramasz
at 11:47 AM
No comments:


Friday, December 10, 2010
Sent to marry a man she does not know by the leadership of Aldersgate Home for Girls, young Emily McCarthy sets out on the stage coach for Montana.
Vigilante Luke Sullivan robs that very stage coach to reclaim the money stolen from his Pa, only to find that Emily is about to marry his archenemy, an evil man named Bart Axel. He opts to kidnap her rather than send her off to be married to Axel. Taking her to the orphanage that grew up in, Emily and Luke both start new lives in Montana. Her help proves to invaluable at the orphanage as a teacher and Luke set out to find what happened to so much of the herd that seems to have disappeared.
This fast paced story is a thrilling tale of vigilantes, cowboys, Indians, land disputes, cattle rustling, and all that made the Wild West wild. It is a page-turner that keeps you hanging onto every word until the very end.
While I did receive a complimentary review copy of this book from Bethany House, that in no way influenced my opinion of it.
Posted by

Jessica Kramasz
at 1:29 PM
1 comment: